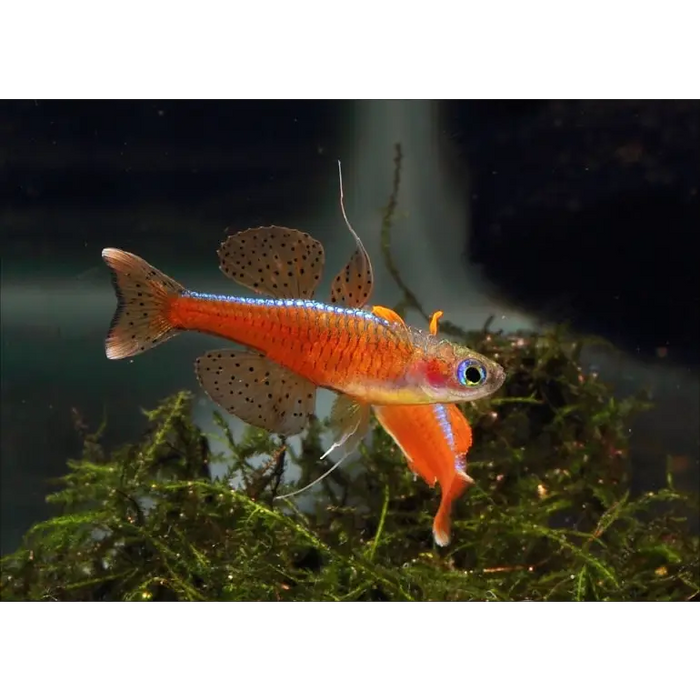 pseudomugil luminatus
Sold out
Original price
$9.99
-
Original price
$49.99
Pseudomugil Luminatus (Red Neon Blue-eye)
Description:
The Pseudomugil Luminatus, commonly known as the Red Neon Blue-eye, is a captivating species celebrated for its striking blue eyes contrasted with fiery red fins. Originating from the clear waters and shaded streams of Papua New Guinea, these vibrant little fishes bring a burst of color and shimmer to any freshwater aquarium. Their lively demeanor, paired with their vivid appearance, makes them an alluring choice for hobbyists.
Features:
Stunning blue eyes that stand out dramatically
Brilliant red fins, particularly in males
Active and playful swimmers
Peaceful nature, suitable for community setups
Thrives best when kept in small groups
How to Keep:
The Red Neon Blue-eye favors aquariums with soft, slightly acidic to neutral water. While they can adapt to various conditions, a well-planted tank with ample hiding spots and open swimming areas is most ideal. A subdued current and a dimly lit or dappled lighting environment replicates their natural habitat. For the best visual display and to encourage natural behaviors, keep them in groups of 6 or more.
Parameters:
Scientific Name: Pseudomugil luminatus
Temperature: 22 - 28 °C
pH Level: 6.0 - 7.5
TDS: 80-200 ppm
GH: 5-12
KH: 1-8
Lifespan: 3-5 years
Size: 4-5 cm
Diet: Omnivore
Behavior: Peaceful
Breeding: Moderate